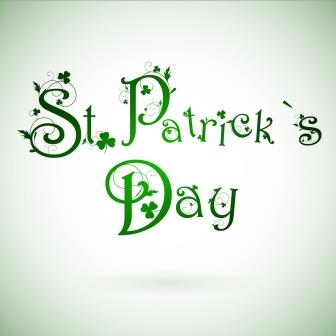 Regardless of your heritage, you are probably aware of Saint Patrick's Day. On the 17th of March every year, the whole world turns Irish! From celebrations in pubs, clubs and restaurants to parades and street festivals. It truly seems that every culture embraces the magic and romance of those ancient Gaels who lived and loved in the Emerald Isle.
Celebrate the Day
What originally began as a feast day in the early Christian church has now taken on more modern traditions. Evolving into a celebration of all things Irish. In big cities and small towns alike, Saint Patrick's Day is celebrated. You may see parades, "wearing of the green," music and songs, Irish food and drink, and children's activities such as crafts, colouring and games. Some communities even go so far as to dye their rivers and streams green!
What ever way you observe this festive day, believe it or not there's more to Saint Patrick's Day than drinking Guinness and donning green outfits! So, this year share in the festivities and learn how some of that Irish luck can rub off on you.
Saint Patrick Origins
You might be surprised to know that Saint Patrick wasn't even Irish, or called Patrick! Important historical figures are frequently shadowed by the myths and legends attributed to them over the course of centuries. Saint Patrick is no exception. However, most historians agree that Maewyn Succat, later to be known as Saint Patrick, was born on the 17th of March around the year 370 A.D.
Little is known about Patrick's early life; however, accounts state he was born in Britain to wealthy Romano-British parents. At the age of 16 Patrick was kidnapped by Irish raiders and held somewhere on the west coast of Ireland as a slave.
According to his confession, he then escaped from captivity and returned to Britain. Spurred on by a dream in which God told him to flee. He joined the Church in Auxerre in Gaul and studied to be a priest. Before deciding to return to Ireland and help bring Christianity to this pagan land.
So the legend goes…
Legends have surrounded this man who eventually became a Bishop. It was said that he drove snakes out of Ireland! Although historians state this was more likely an expression that referred to driving out the pagan influences in Irish culture. He also supposedly made the shamrock famous by using it as a tool to teach about the Holy Trinity.
Blue then Green!
Since Patrick's death, Saint Patrick's Day has come to be associated with everything Irish: anything green and gold, shamrocks and luck. Originally the colour blue was associated with Saint Patrick, so why has green become such a symbolic colour of St Patrick's Day? There is no single official reason however there are several theories. Ireland has long been referred to as the 'Emerald Isle' named after its lush green landscape. Green is also the colour of the shamrock, the clover and is a prominent shade in Ireland's tri-colour flag. Whatever the initial reason, wearing and displaying green is now a time-honoured tradition. Legend also says that wearing this colour will keep those mischievous leprechauns from pinching you. So, whether you choose a simple green hat or dress in green from head to toe, you will be celebrating in style!
Reading
Psychic Light will be available for readings on St Patrick's Day, if you are looking for a bit of Irish flavour, then why not try psychic Mary, who is Irish through and through with incredible charm to prove it. Or Joshua who inherited his clairvoyant abilities from his Irish Mother. Or perhaps Julie, who has an Irish Nun Spirit Guide!
Posted: 15/03/2019
Related Category: Spiritual Holidays