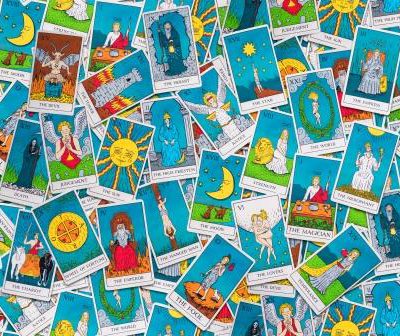 Many clients come to Psychic Light specifically for a Tarot Card reading. The cards, alongside the reader's interpretation and insights, offer a powerful predictive tool. Allowing you to analyse situations you are facing, get answers to questions, possibly look at the timing of events and generally look at what the future may have in store for you.
Tarot Decks
There are many versions of Tarot decks; the Rider Waite set is arguably one of the most well know – but you may prefer a different set, as may your reader. Decks can be traditional or quirky, and some follow a particular theme. A reader may have several Tarot decks, and they will use a set depending on the connection they have with the client or what they are feeling that day.
Symbolism
When you first see a Tarot deck, you could be forgiven for thinking some of the card depictions are quite alarming – think the Death card or the Hanged Man! However, many of the cards, interpretations are not as literal or as sinister as they first seem.
When Tarot was first used in Medieval Europe, it was almost a coded language – that allowed readers to use forbidden sources of information without authority's interference. For example, religious beliefs, spiritual thoughts and even astrology. So, the cards are rich in history and symbolism and have a mysticism about them that has carried forward to this day.
Arcana
Tarot Decks have two sections; the first is called The Major Arcana and is 22 cards. The second is the Minor Arcana which is 56 cards.
Like playing cards, the Minor Arcana is divided into four suits: Wands, Pentacles, Swords and Cups.
The Major Arcana is likely what you are more familiar with; it starts with card 0 – The Fool and ends with card 21 – The World. Throughout 2023, we will explore each of the 22 cards of the Major Arcana in more detail.
It can be tempting, especially for beginners, to concentrate on learning the meanings of the Major Arcana only, as figuring out 78 cards can seem a daunting task. However, utilising only the Major Arcana for a reading can provide an unbalanced point of view, and the subtle details that derive from using the whole pack can be lost.
Generally, you can expect that the Major Arcana will deal with significant events in your life; and your journey, also; who is likely to accompany you on your life path. While the Minor Arcana will deal with the more everyday things that are likely to occur and might provide possible roadblocks to your progress.
Tarot Reading
A Tarot Reading is often called a Spread – this determines how many cards will be dealt or selected, the pattern they will be laid out in, and when they will be turned and read.
The type of Tarot spread, and how many cards are used may be determined by how much time you have and the sort of information you want to gain.
One thing to be mindful of is that whilst Tarot is predictive, outcomes do not always come to fruition. This is because, in many cases, the information may act as a warning. If you take preventative action and change course, then; the original prediction will not come to fruition.
Another thing to mention is that Tarot can be reflective; by that – I mean the reading can act like a mirror for our mood that day. So, whilst it is tempting to turn to the cards when you are most worried and agitated. It is probably better to wait for a reading when you can act calmly and see the situation more clearly.
Tarot, like any divination tool, should be treated with respect. This means not overusing the cards and not asking Tarot the same questions over and over, hoping for a different outcome.
Psychics
If you would like to experience a Tarot reading with a practised psychic, then; why not try one of these readers from our team? Then follow along each month as we explore the Major Arcana in more detail:
Aelissa – PIN: 4444
To Aelissa Tarot is the most versatile reader tool. She feels that the reasons and causes behind issues can be seen. Timescales are more accessible, and probable outcomes are clearer. As well as a client's questions being more easily highlighted.
Jancey – PIN: 3032
A hereditary psychic clairvoyant, Jancey was born in Northern Ireland to Irish and Scottish parents with mainly Romany bloodlines who have been reading Tarot for over sixty years. Jancey was given her first deck of Tarot cards when she was just four years old. Jancey feels that the cards can provide specific information and insights into the right direction, whether that's advising on matters of the heart or any other topic.
Joanna – PIN: 4567
Joanna is a qualified reader of Tarot, having studied and gained a certificate. With this skill and combination of psychic and clairvoyant ability, she will support you in discovering that love is the most important aspect of life both for yourself and for those relationships around you. Joanna loves to work with the Tarot, as it can provide specific guidance. Especially when people have confusion in their lives; and do not know what questions to ask.
Mariah – PIN: 1881
Mariah is a practised Tarot reader and has written for Psychic Light on this topic; you can find her article here:
Posted: 18/01/2023
Related Category: Tarot