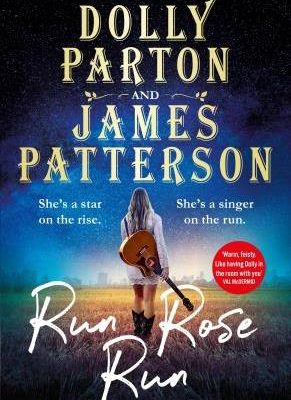 If ever there was a celebrity to make you feel like you are not achieving enough in your life, it's probably Dolly Parton! With a career that spans decades; and more springs to her bow than we can count. She's known for being a very early riser, and she likes to get more things done before most of us are thinking about an alarm clock ringing.
Run, Rose, Run
In January 2022, Dolly turned 76, but she's not letting that slow her down one bit. In March of this year, a double whammy arrives. A book called: 'Run, Rose, Run' which comes out on the 7th, which she co-authored with famous writer James Patterson. The book is released just a few days after her album on the 4th March, with the same name.
It's hard to imagine how this collaboration came about, but the result is a 448-page book and a 12-song album. Despite Dolly Parton's accolades, she has never ventured into writing fiction; this will be her debut book. The publishers – Little Brown haven't given too much away about the plot, but it's not a giant leap given Robert's writing genre to imagine it's a thriller: "Every song tells a story. She's a star on the rise, singing about the hard life behind her. She's also on the run. Find a future, lose a past. Nashville is where she's come to claim her destiny. It's also where the darkness she's fled might find her. And destroy her."
Patterson seemed to enjoy the writing partnership, and thinks fans will be delighted by a book/music combo – that enhances the experience all around: "It's been an honour — and a hell of a lot of fun — to work with the inimitable Dolly Parton, whom I've long admired for her music, her storytelling, and her enormous generosity. The mind-blowing thing about this project is that reading the novel is enhanced by listening to the album and vice versa. It's a really unique experience that I know readers (and listeners) will love."
The Album
The album mirrors the book – a young woman is leaving her home, and heading to Nashville, Tennessee to pursue her dream of making music, but she's taking with her a dark secret from the past, and it threatens to catch up with her and ruin everything!
The twelve songs are a mix of Americana, Bluegrass and Country. Dolly has already released a track from the album; called: Big Dreams and Faded Jeans. She has said that this track epitomises the many people that go to Nashville to try and make a successful career out of music; whether they are running away from something back home doesn't matter – just that they are running towards a future.
Posted: 11/03/2022
Related Category: Celebrity