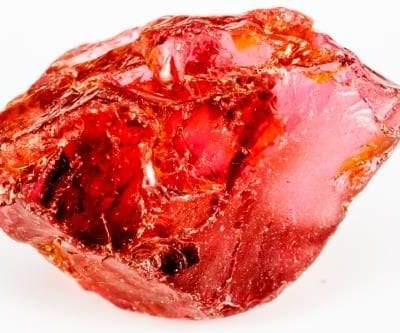 January Birthstone: Garnet
For those born during the month of January, you can count the revered garnet as your birthstone.
The traditional poem for January reflects some of the properties with which the Garnet is associated. Purity, truth, faithfulness and friendship. "By her who is this month was born, no gem save garnets shall be worn They will ensure her constancy True friendship and fidelity."
Colour
Garnet is often depicted in its rich, blood red form. The January birthstone can actually occur in a range of striking colours from fiery orange to jet-black. The name garnet comes from the Latin word 'Garanatus' meaning 'seed like'. Perhaps a reference to the garnet's similarity to bright red pomegranate seeds.
References to this stunning stone date as far back as 3000BC. Egyptians used garnet as inlays in jewellery, and it was strongly favoured as a popular gem in Victorian jewellery.
Properties
As with many precious stones, garnet is noteworthy for its use throughout history for its medicinal powers. The stone was thought to cure depression, protect against bad dreams and relieve fever amongst other things. Known as 'the warrior's stone'. Garnet is a great protection stone, believed to heal injuries and bring about peace and tranquillity.
The red colour of the garnet suggests its connection to love and desire. In this sense it can be used to restore lost passion or enhance feelings of love. Also encourage loyalty and commitment in a relationship. As a result it is believed to heal the broken bonds between separated lovers.
Garnet is extremely useful for balancing the emotions, and it is believed that one of the garnets strongest virtues is to assist one overcome depression. Aiding you to let go of negative habits and thought processes, garnet alleviates emotional disharmony and strengthens your survival instinct.
Chakra
Garnet can boost your whole systems energy as it has a way of drawing negative energy from your chakras. Garnet is primarily associated with the root chakra, located in the base of your spine.
This warm, bright stone has been a popular choice for birthstone jewellery for centuries. Wearing your birthstone set in jewellery or carrying it in your pocket can bring out your passion for life. Aquamarine can also increase your personal magnetism, drawing that special someone towards you.
February Birthstone: Amethyst
The amethyst is the birthstone for the month of February. Once considered to be more valuable than diamonds! The deep purple gemstone is believed to have a calming, tranquil influence that symbolizes peace.
History
The word amethyst comes from Ancient Greece taken from the Greek word for sober 'amethystos.' At the time, the gemstone was associated with the god of wine. Hence it became common for the Greeks to serve their wine from amethyst goblets. The other reason for this tradition was to guard against drunkenness and instil a sober mind. The reference could also be due to the wine-like colour of the gemstone.
Royalty
To be called an amethyst the gemstone has to be purple. Its colour is unparalleled and is often found with many different shades of purple, lilac and mauve. Purple is often a colour associated with royalty. The purple hue of Februarys birthstone often appealed to monarchs as a symbol of their power.
The gemstone is a member of the quartz family and occurs naturally as crystals within rocks. Therefore when exposed to strong sunlight for a long time they can begin to change colour. Thereby giving each ones colouring, unique to its location.
Spirituality
The amethysts spiritual properties are mainly associated with wisdom, sobriety, spirituality and security. The amethyst was worn by Ancient Egyptians for protection against witchcraft, self-deception as well as guilty and fearful feelings.
The gemstones powerful spiritual properties mean that the amethyst has been used to open the spiritual and psychic centres to this day, where it is still worn by healers and during meditation, due to its positive influences and its ability to focus energy.
Healing
During healing, the stone can be used to overcome problems with the blood, breathing, headaches, insomnia and is also a stabilizing force for those struggling to overcome addictive behaviours.
March Birthstone: Aquamarine
Aquamarine is the birthstone for the month of March. Often used by sailors as a protection charm, the word Aquamarine is derived from the Latin "aqua marina" which means "sea water" and symbolises courage and faithfulness. Its spiritual properties are mainly related to courage, safe travel on water, tranquillity and inner peace.
Beryl Family
Aquamarine is a member of the Beryl family, making it a close relation of the Emerald. Unlike its striking cousin, Aquamarine is found in a wide range of colours ranging from a pale blue to a deep-sea green. In fact the more intense the colour, the more value is put on the Aquamarine gem.
The most valuable Aquamarine stones are most commonly found in Brazil. Furthermore the crystals are mined in African countries such as Mozambique and Nigeria. Aquamarine is said to be the treasure of mermaids, and is heavily associated with influences from the sea.
"A March born shall always be Soothed by Aqua, gem of sea This mermaid's treasured stone you wear Will bring happiness, love, affection and care."
Legend
According to legend, Aquamarine was often worn by sailors to guarantee their safety on journeys overseas and to prevent seasickness. The Aquamarine is thought to have many other uses and has been used in healing since the Middle Ages. Consequently, during that time many believed that the stone would reduce the effect of poisons.
More modern uses of Aquamarine include using it to overcome sore throats, swollen glands and thyroid problems. The tranquil properties of Aquamarine also make it common to be worn by those who have difficulty dealing with their anger or couples whose relationships may be in trouble.
Traditions
The tradition of giving birthstones as gifts dates back hundreds of years. Aquamarine is the gemstone for the 19th Wedding Anniversary! Finally, if you are looking for a great gift for a loved one born in January, February or March. Then these birthstones can be found in all different types of stunning jewellery.
Now that you know your Birthstone, you might be interested in reading more about the star sign associated with your birth date. Or even the compatibility of different star signs.
Are you interested in the Birthstone of other months of the year? Why not look up the gems associated with April, May and June – Diamond, Emerald and Pearl? Or perhaps, July, August and September – Ruby, Peridot and Sapphire. maybe even October, November and December – Opal, Topaz an Aquamarine.
Should you require more information, we have gathered a team of highly practised telephone readers, who offer a wide range of psychic reading styles.
Posted: 10/05/2019
Related Category: Birthstones