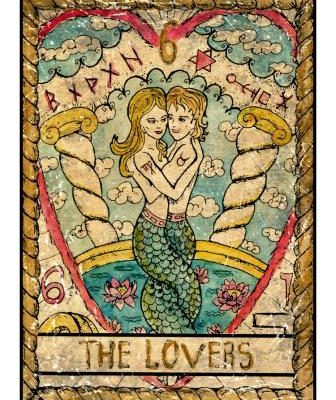 VI – The Lovers
The first part of The Lovers card describes love and relationships, but they can be platonic and romantic. When this card appears in a spread, it does indicate that the relationship in question is both close and fulfilling – there are strong bonds between you, and the feelings are heartfelt.
The card may describe the beginning of a love affair, but at other times, the card; may depict a significant relationship – generally, it means everything is well, and this union creates joy for you both. If there is a relationship that you are struggling with, then the appearance of this card can signify that, given time, things will sort themselves out.
The second meaning of The Lovers card is the need to make a choice. Often, the card shows a man, a woman and a third party (maybe an angel or cherub); this represents the eternal triangle. The choice you have to make is not; an easy one, and you will likely have to sacrifice something in making the decision.
In terms of making a choice, the card is not always about love – it may involve a decision about your career – maybe you have to decide between job offers. Or the choice could be financial – should you go with your heart or head?
The triangle of people on the card can also represent the need to discuss your dilemma with a third party – seek counsel from someone you trust and let the spiritual entity of this card watch over you.
VII – The Chariot
The Chariot is a very positive card – it will appear when you are going through a challenging period. The card itself won't lessen your difficulties – but it is a reminder that with the right tools and some determination, you will get through the hardship to succeed in the end!
You might notice from looking at The Chariot card that there are often two horse-like animals – and yet no reins from the man to them, so how does he drive and steer? A lot can be learned from the card in terms of your approach to your journey:
You cannot afford to be distracted.
Keep an eye on the road ahead.
Reacting in the heat of the moment, especially to others – will not get you the outcome you want.
Keeping a calm head, and not letting your emotions rule – will give you the best results.
So, what should you take away as another message from The Chariot card? It is important to recognise that even though you are working through something hard – you should not punish others, as tempting as it might be to want someone else to suffer. Revenge is fleeting and rarely provides long-term satisfaction!
Posted: 12/05/2023