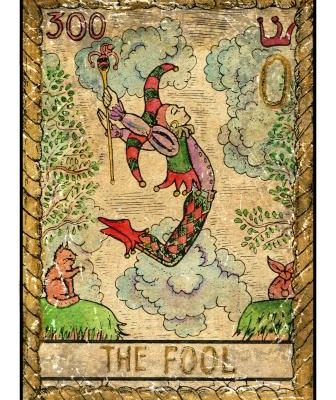 Today, we start with the first two cards in the Major Arcana: 0 – The Fool and 1 – The Magician.
The Fool – 0
This card, in some instances, can be seen as its name suggests – foolhardy. But, in other circumstances, it can represent an act of faith.
Those that draw this card; may tend to rush into things, heart first and head later. They may do well to consider what they can learn from past mistakes!
There is a child-like innocence to the Fool, a refusal to see what might be – preferring to focus on what lies beyond.
The Fool card often represents fresh starts, new beginnings and all of the excitement, hopefulness and eagerness this brings. Many; will be convinced that they are on the right track with their adventure, but the Fool card raising its head – may give you pause for thought. Perhaps it is time to venture under the surface of feelings; do you have any nagging doubts? Or any déjà vu – that you might have been down this road before?
Sometimes we let others influence our decisions, not always for the better. Others may consider our thoughts, ideas, or even life path, to be foolish. But life is not so black and white. So, what may seem imprudent behaviour to one person, makes complete sense to another.
The Magician – 1
Many of us will know a 'Magician', in our family/friend or work circle. They are usually considered significant within the group, are charming and can exert influence over others. Of course, if you recognise this description in a more self-portrait way, then perhaps you are the Magician!
Usually, the Magician is clever with words; they may have risen to a powerful position in their careers. They appear talented and creative and seem to have a level of knowledge in many areas. Underneath, perhaps they are a 'jack-of-all-trades' and 'master-of-none'? As needing specialist knowledge in an in-depth area is beyond the commitment they are prepared to give.
The concern with the Magician is possibly trickery or even deceit. When this card appears in a spread – you may need to question the level of truth they are telling! Maybe in the back of your mind, alarm bells have rung – but you have pushed them to one side because you want to be associated with them.
When you draw this card, take a long hard look at those you are keeping company with. The aim is not to get you to be distrustful of those; that you let into your inner circle; but to forewarn you that not everyone may be as they seem – and to be on your guard for anyone that may wish to mislead you and others.
Tarot Readings At Psychic Light
Many clients come to Psychic Light specifically for a Tarot Card reading. Working with a reader, alongside the tarot deck, can help you gain further insight and analysis when seeking guidance from the tarot spread.
If you would like to experience a Tarot reading with a practised psychic, then; why not try one of these readers from our team? Then follow along each month as we explore the Major Arcana in more detail:
Aelissa – PIN: 4444
To Aelissa Tarot is the most versatile reader tool. She feels that the reasons and causes behind issues can be seen. Timescales are more accessible, and probable outcomes are clearer. As well as a client's questions being more easily highlighted.
Jancey – PIN: 3032
A hereditary psychic clairvoyant, Jancey was born in Northern Ireland to Irish and Scottish parents with mainly Romany bloodlines who have been reading Tarot for over sixty years. Jancey was given her first deck of Tarot cards when she was just four years old. Jancey feels that the cards can provide specific information and insights into the right direction, whether that's advising on matters of the heart or any other topic.
Joanna – PIN: 4567
Joanna is a qualified reader of Tarot, having studied and gained a certificate. With this skill and combination of psychic and clairvoyant ability, she will support you in discovering that love is the most important aspect of life both for yourself and for those relationships around you. Joanna loves to work with the Tarot, as it can provide specific guidance. Especially when people have confusion in their lives; and do not know what questions to ask.
Mariah – PIN: 1881
Mariah is a practised Tarot reader and has written for Psychic Light on this topic; you can find her article here.
Posted: 10/02/2023
Related Category: Tarot