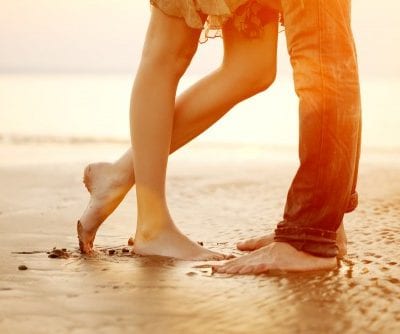 Summer is a common time for exciting romance and finding love. You meet someone in a different place that made your summer fun, exciting and perfect, but the big question is…is it just a summer fling or lasting love? To help you determine whether you're holding onto feelings that aren't mutual or if you've actually found 'the one;' read our guide to some common signs you can look out for…
Communication Fling
Communication is one of the most important aspects in any relationship; it quite simply makes or breaks your connection. If you find you're the one starting conversations first or constantly waiting around for him/her to text you, then it's best to end contact now. If they only get in touch when it suits them, then you are not a priority and it may be best to move on.
Real thing
You never run out of topics to talk about and every conversation flows effortlessly. You speak nearly (if not every) day and the effort is mutual. You may have noticed texts have turned into phone calls and every day they are constantly on your mind.
Meeting up for dates Fling
You have not met up since your memorable summer, and they have not hinted they want to see you again. If you are the one constantly asking to meet up and you have not had a response or no time and date has been set, then you may be pushing something that isn't there. Cancellations at the last minute also show a change in behaviour towards you. Similarly, if you have met up but you only see each other once in a blue moon then this is not a relationship worth pursuing.
Real thing
If it's the real deal it's likely that you have both expressed interest in meeting up or have committed to putting a date in the diary. Maybe you have met each other, and are continuing to enjoy each others company. Your dates are exciting and you are made to feel special and a priority. Most importantly, you look forward to meeting up and you get that feeling of excitement and butterflies when you see them.
Good impressions Fling
It's natural to want to impress someone you want to pursue a relationship with, so if you've noticed your crush doesn't make an effort with you it could mean they see you more as a friend. Also, if you have spoken about meeting your family and friends but they have no interest in winning their approval, then it may be time to say goodbye.
Real thing
There's equal effort on both sides and you will do anything to make each other happy. Winning the approval of family and friends is important as you see a future together. Don't assume that making an effort means wearing lots of makeup and fancy clothes, it's more about going the extra mile personally; something you would do differently when meeting up with your significant other than with a friend.
Psychic Readings for Love at Psychic Light
If you're still undecided whether you have found your true love or whether you are wasting time on a connection that isn't mutual, then call Psychic Light and find clarity on your situation. Love and relationships are one of the main reasons that people contact Psychic Light and as such our psychics and mediums are highly skilled in delivering intuitive readings about all matters of the heart in a very comforting and empathetic manner.
Contact one of our readers today to get started!
Posted: 17/08/2016
Related Category: Love