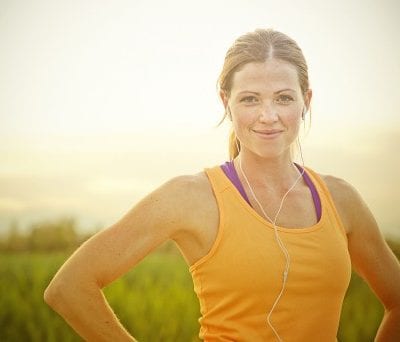 June has suddenly crept up on us and in a few weeks, summer will have officially begun! If the start of the warm weather has left you feeling worried and anxious about your body and the thought of putting a bikini on leaves you panicked, then read on! Before you start searching for crash diets or 'how to lose 10lbs in a week;' Stop!!!
The problem with these 'quick win' diets, is that when you start eating regular food, your body will put weight back on quicker as your metabolism levels have slowed down due to your crash diet. It's also really unhealthy! Don't put your body through the strain of crash dieting. Instead opt for healthy, strong and happy changes that can be made simply by following these easy steps…
1. Make Small Changes
Making a small change every day makes getting in shape easily achievable. Instead of having a fizzy drink at lunch, swap it for water. Instead of buying lunch every day, make your lunch using fresh ingredients. Instead of spending your lunch break sitting at your desk, go for a brisk walk! These changes are not massive, in fact, you will hardly notice the change to your routine. The goal is to start small and continue to add manageable swaps into your lifestyle.
2. Set Reachable Goals
Instead of saying to yourself 'I want to lose "X amount" in a month,' aim to lose a healthy 1lbs or 2lbs a week. In a month, you may find that you have lost half a stone. While 1lb does not seem a large amount, click the link to see how much your hard work has really paid off!
3. Eat Healthily and Drink Sensibly
Women are meant to consume 1500 calories a day and men in 2000. Did you know that a large French fries from McDonald's will take 48 minutes of cardio to burn off? If you are serious about losing weight and toning up, the best option is to cook your meals from scratch using fresh ingredients. This way you can control exactly what gets added into your meal. Your food will also be easier to digest. Also, remember to make sure you get your 5 a day – fruit and vegetables are rich in fibre which means you will be fuller for longer. An average bottle of wine (chardonnay) has 615 calories and one pint of beer is the equivalent of eating a large slice of pizza. During the summer months, having a glass of wine in the sunshine is enjoyable, but make sure you don't do it every day. If you kick alcohol out of your life, you will notice a change in your body fat and a positive change on the scales.
4. Work out Regularly
While 80% of losing weight is down to healthy eating, working out will help you to tone up and boost your weight loss. Interval training is a popular weight loss exercise as it gets your heart pumping and you continue to burn calories even after exercising, as your body works harder to oxygenate the body throughout the day. Alternate between sprints and a slow jog for 20 minutes to get the best results.
Follow these tips and you can't go wrong this summer! Remember that strong and healthy is always preferable to being thin. Make these small changes and we're confident that you'll find your mood is boosted, your self-esteem improves and your body will thank you for it!
Posted: 08/06/2016