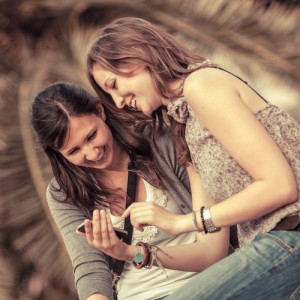 With 7 in 10 Brits now owning a smartphone, a new world of mobile dating has emerged, allowing people to find their perfect partner with just a swipe of their finger.
Dating apps have become popular with modern singletons, busy with demanding jobs and jam-packed diaries. Unlike traditional online dating profiles, dating apps allow you to connect with people in your radius without the need to trawl through endless profiles and complete elaborate questionnaires before you meet a match.
Dating apps put the immediacy and simplicity back into dating that could almost be likened to the traditional method of meeting someone in the street and making small-talk. While dating apps have become exceptionally popular with the 18-35's, for many of us, a world where love is only a smartphone away could prove daunting, but people of all ages could risk missing out if they don't join in.
Connections can happen when you least expect them so if you're thinking about joining the dating app pool read on…
Types of App
A number of dating apps have sprung up recently, each with their own unique selling points. So whether you're a professional looking for a coffee break date or seeking a match that shares your Christian values there's an app for you. We take you through some of the most popular apps on offer.
– Hinge
Hinge connects you with people in your extended social circles that they think you'd like to meet. Hinge states it will hook you up with 'the types of people your friends might introduce you to, but haven't had the chance to meet.' 
– Happn
Happn's premise is that our lives are filled with 'near misses,' and aims to connect you with people you have crossed paths with, and would like to meet again. With Happn your perfect partner could be walking down the street, at work or at a party!
– Tinder
With a simple, easy to use interface and a host of celebrity users, Tinder is possibly the most popular of the bunch. Tinder allows you to connect with new and interesting people around you, accepting or rejecting potential matches with a left or right swipe.
– Coffee Meets Bagel
Aimed at professionals, CMB connects you with a match at 12noon every day, allowing you to meet a potential suitor on your coffee break.
– ChristianMingle
The app that allows you to connect with local Christian singles. 'Smile' or 'Favourite' anyone that catches your eye with just a swipe.
Dos and Don't's of App Dating
 
Do:
Be honest about your age and intentions
Meet matches in a busy, public place or let a friend know where you are
Include brief biographical information
Upload an honest set of photos
Mention your interests and hobbies
Watch your spelling and grammar
Don't:
Commit to dinner on a first meeting
Give too much information away until you have met and feel comfortable
Give someone your address
'Like' someone if you are not interested
Put misleading photos on your profile
Guidance From Psychic Light
Do you feel your dating skills need a check-up? We have many psychics gifted in love and relationship readings, so get in touch and see how we could help. Our readers can offer guidance on your true feelings about a potential match or give you advice on what could be waiting for you in the future.
Posted: 13/08/2014
Related Category: Love