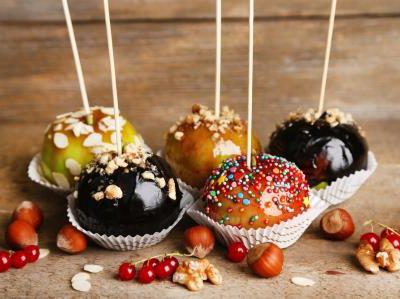 Both Halloween and Bonfire Night fall in the middle of the autumn apple harvest, so it is no surprise that the Toffee Apples are synonymous as a treat at this time of year.
Bonfire Night in the UK, is also known as Fireworks Night and Guy Fawkes' Night, and of course remembers the failed Gunpowder Plot that tried to blow up the Houses of Parliament. No comments please – on how each of us is feeling about parliament currently!!! But I wouldn't be surprised if a few burning effigy's this year take on the look of the odd politician or two, ha!
Whether you are enjoying a few sparklers in the garden, or are going to an organised fireworks event, why not make some home-made treats? There really is no end to how you can decorate an apple…
What do you need:
Apples – Choose whatever eating apples you like the taste of. Sharper apples like Granny Smith's can work well in contrast to the sweet coatings.
Sticks – You can use lolly sticks, sturdy straws, skewers or even twigs (great for that witchy feel).
Coating – This could be traditional red sticky toffee, caramel coating or even chocolate (see recipe ideas below).
Toppings – Go wild! This could be sprinkles, chocolate, nuts, crushed biscuits/cereal – whatever you fancy.
Coating Options:
For Toffee Apples all you need is caster sugar, vinegar and golden syrup. Plus, possibly food colouring, if you want that bright red shine! Why not try BBC Good Food's recipe: www.bbcgoodfood.com/recipes/13599/homemade-toffee-apples
You could try Caramel Apples, you will need sugar, maple syrup, golden syrup, butter and double cream – very indulgent! Food Network has a recipe: www.foodnetwork.co.uk/recipes/caramel-apples.html
Of course, if you are a chocolate lover – then this might be the only option for you. For Chocolate Apples you literally need chocolate. Choose a dark, milk or white chocolate or combination, that complements your apple choice. All Recipes gives you step by step instructions: http://allrecipes.co.uk/recipe/6056/chocolate-dipped-apples.aspx
Enjoy!
Posted: 01/11/2019