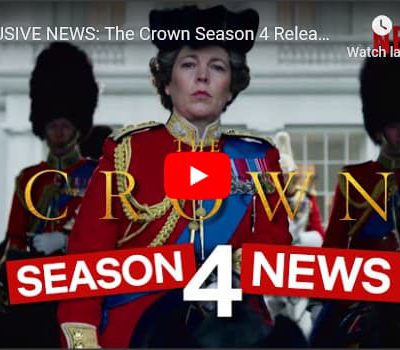 With big blockbusting movies like James Bond being delayed yet again, likely due to the pandemic and poor cinema viewing figures. More than ever we need to turn to TV schedules for entertainment. The winter line-up does not disappoint!
The Crown
Our cover star Gillian Anderson makes an appearance, as none other than Conservative Prime Minister Margaret Thatcher, in The Crown TV Programme – season 4, due to hit Netflix screens on 15th November. Emma Corrin plays Princess Diana, and it looks as if her wedding to Prince Charles features. Olivia Colman returns as Queen Elizabeth II.
Season three finished in 1977, speculation suggests that season four covers much of the Thatcher years and the relationship between the Queen and the Prime Minster. Thatcher took office in 1979, and remained there until 1990, so there is scope to cover quite a few years.
It is rumoured that the series will also document Princess Diana's private struggles with bulimia, her marriage and the press.
Stars have already been lined up to play many of the characters as they age for season 5. Filming has been affected by the ongoing virus, and as such we may have to wait until 2022 for that instalment.
Call the Midwife
If the Crown is not your cup of tea, then you may be pleased to hear that Call the Midwife will back on our TV's on BBC One with a Christmas special on the 25th December. Followed up by series ten in early 2021.
The show producers have given some hints as to what is in store for the Xmas special – It's December 1965 and a traditional Christmas is organised, but not everything is working exactly to plan! Someone ends up in hospital, someone gets an unwelcome gift, there is a surprise reunion and a special birth. You can expect new experiences, new friendships, new adventures and laughing and tears in equal measure.
The Undoing
If you are looking for something new to watch, then tune into TV Channel Sky Atlantic for The Undoing (which started on the 26th October).
The show pairs Hugh Grant and Nicole Kidman as a couple with the perfect lives, until literally everything is upended! The series is based on a novel by Jean Hanff Korelitz: 'You Should Have Known'. Kidman plays a therapist called Grace, someone she knows from the community suffers a violent death and then her husband goes missing. A chain of revelations takes place, forcing Grace to decide whether she needs to dismantle one life to create another!
Tin Star
If thrillers are your thing, then you'll be glad to know Tin Star is back for a third season, with all the usual cast reprising their roles: Tim Roth, Genevieve O'Reilly and Abigail Lawrie as the Worth family. But be warned, season three is also the final season!
The third season is actually called Tin Star Liverpool, and that's where we will be following the Worth family, to where everything began twenty years ago…
The Great British Bake-Off Finale
If you have been following along with GBBO, then you'll be delighted to know that the final is likely to take place on 24th November.
This is the eleventh outing for the beloved cake baking show, Matt Lucas replaced Sandi Toksvig, and Noel Fielding, Paul Hollywood and Prue Leith returned as presenters/judges.
The pandemic wreaked havoc with filming, shortening the process to just 6 weeks. The first three episodes have been for 90 minutes, then returning to 75 minutes as normal until the final.
Of course, usually by August we would know the winner, this time that will be in November!
Other TV shows to look out for in late autumn…
Black Narcissus – BBC One
His Dark Materials – BBC One
Industry – BBC Two
Spitting Image – Britbox
Truth Seekers – Amazon Prime Video
Dead Pixels – E4
Life – BBC One
Posted: 06/11/2020