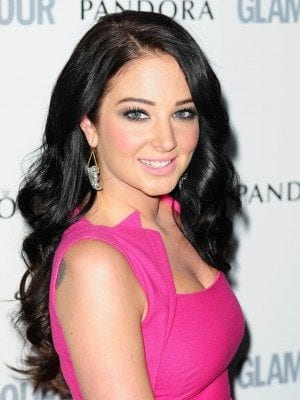 2014
Tulisa Contostavlos found that 2014 was a tough year for her. According to her psychic, that's all about to change for the former X-Factor judge.
The 26-year-old singer got in touch with her spiritual side after deciding to reach out to her uncle Byron Contostavlos, who sadly passed away back in 2007.
Spiritual Side
Talking to the Daily Mirror, Tulisa explained how the medium had channelled her late uncle and told her to expect a great year ahead. Tulisa said: "I spoke to a medium and she knew loads about me without even knowing it was me. Because, I went in to see her with my face covered and wearing a cap."
'Uncle B'
Tulisa's 'Uncle B' also appeared to give his blessing and a big thumbs up to the singer's new single.
"I asked if Uncle B thought my next single was the right choice, and without knowing what it was, she started quoting the lyrics. So I knew Uncle B thought it was right."
"Then she said she saw a figure wearing a cap with his two thumbs up. Uncle B always used to do that. I have a picture of him doing it beside my bed."
"The medium said it would be all good things next year."
"She also knew about the tattoo that I had for him, during the trial."
Tulisa says she has always had 'a bit of a sixth sense' which has helped to keep her in touch with her beloved uncle in the past.
"I sense Uncle B around me all the time, I can be driving on my own and I'll be like, 'You alright B?' and I'll give him a wink."
"I don't see him in the physical sense, but feel him there. I visualise him giving me pep talks. I think of him before I go on stage and when I'm performing."
Psychic Guidance
This is not the first time the star has turned to a psychic for guidance. The singer enlisted the help of a psychic after facing drug charges back in 2013. Tulisa revealed that the reader had helped her think more positively about the future.
Get in touch
Just like Tulisa many people come to Psychic Light looking for reassurance from a lost loved one. Our psychic mediums are able to pass on messages from the other side and give communications of comfort and joy for the living.
If like Tulisa, you are inspired to try out a medium reading then we have many skilled readers waiting to hear from you. Robbie and Mariah are just some of the talented spiritualist mediums on hand to take your call – just check out our reader profiles and get in touch.
Whatever the issue, we can assure you that Psychic Light will be on hand to offer a friendly voice, give advice or simply lend a sympathetic ear.
We look forward to hearing from you.
Photo Editorial credit: Featureflash Photo Agency / Shutterstock.com
Posted: 04/02/2015