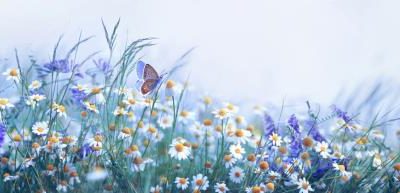 Nature has always been my source of strength. I was lucky, having grown up in the country. Where the long walk to school took me on an inner and outer journey. I was able to let my thoughts run. The natural curiosity of a child guided my explorations into the natural world. 
System Re-Set
It was only later in life when stepping into the chaotic, busy world of adulthood I began to appreciate just how lucky I had been. Walking in nature feeds a part of me and re-sets my system. In a way that nothing else in this modern technological world can do. Seeing the flowers and trees, the animal and insect life, awakens the joy of being alive and part of this complex network of energy.
Ancient Ruins in Nature
I am also particularly drawn to ruins from civilisations now long gone. When I visit an archaeological site, perhaps Roman or Greek ruins. Or even come across a pile of stones in nature that was once a dwelling place, I can find myself drawn into a visualisation of the people, and the place from days gone by.
Different Dimension
I love to find a quiet spot to myself and really feel the energy. Although I never lose sight of where I am in the 'real' world. My inner-eye opens and takes me to a different dimension as the scene around me unfolds in more and more detail.
I can see the people going about their daily lives. Hear the chatter, the bustle, sometimes smell the scents, see the richness or paucity of their clothes. It is as though I am sitting in the middle of their reality. Which is taking place all around me, and experience the life of those who have passed before.
It feels like an honour, like a gift Spirit is giving me of being a guest of a previous civilisation. Having this glimpse from another plane reminds me how tiny we are in the whole realm of existence. And how our thoughts, fears, hopes and loves have all been played out before, since the beginning of time and will continue forever more. It gives me a clearer perspective on life, and reminds me to appreciate life with all its chaos and uncertainty. How our choices and actions create our own unique world to add to the myriad of others and that we are all actors in a field.
Spirit's Energy in Nature
There are places I don't linger, where the energy feels low, uncomfortable or 'bad' somehow. I don't wish to see or feel what has happened there, but I send a prayer and move on, knowing that I am feeling this way for a reason, and that I have something to learn.
Spirit to me is the energy behind, beyond, underneath and before the manifested world comes into existence. It is everything, and what comes into being is what Spirit chooses to reveal to us at any given time. It is more real than the real and we are just travellers being drawn forward. Given free will, and the opportunity to observe and learn, but who knows how humanity will eventually evolve!
Posted: 27/04/2021