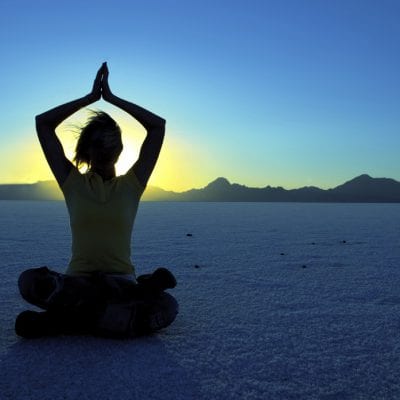 What do Paul McCartney, Jennifer Aniston and Russell Brand all have in common? They all meditate! With its huge celebrity following, it is unsurprising that meditating has gone mainstream. These spiritually inclined A-listers are leading the way. They're proving that meditation is the latest tool to unlock creativity, reduce stress and live a more harmonious life.
Katy Perry
It is thought that Katy Perry turned to meditation to help her cope with her divorce to Russell Brand back in 2012. After taking part in group meditation, she tweeted "transcendental meditation changed my life."
The Beatles
After meeting guru Maharishi Mahesh Yogi on a trip to India, The Beatles held a press conference to reveal their new passion for meditation. At the same time they announced that they had given up drugs! Maharishi stated: "They came backstage after one of my lectures, and they said to me: 'Even from an early age we have been seeking a highly spiritual existence. We tried drugs and that didn't work.' They are such practical and intelligent young boys that it took them only two days to find that transcendental meditation is the answer."
Jennifer Aniston
Jennifer recently revealed that this spiritual practice is the secret to her youthful looks and beautiful skin. "It just centres you, and your stress levels are just down. And you find yourself interacting in the world much easier and better, in a calmer way." 
Hugh Jackman
The actor is another devotee of meditating. He originally began meditating in the 90's to help him overcome his OCD (obsessive compulsive disorder). He claims "meditation changed my life."
Oprah
The US talk show host revealed the profound effect transcendental meditation has had on her life. So much so her entire company now participates in the practice. "The one thing I want to continue to do is to centre myself every day and make that a practice for myself, because I am one thousand percent better when I do."
Russell Brand
The actor and comedian has been quoted as saying "I'm quite a neurotic thinker, quite an adrenalised person. But after meditation, I felt this beautiful serenity and selfless connection."
Meditation on a Day-to-day basis
Meditating does not involve religion or a certain belief system, and with the right amount of commitment, it can be easily learnt by anyone.
There are many different techniques, and many different reasons why people meditate, however when it comes to your day-to-day happiness, meditation is a healthy way to cope.
Don't forget that many of our Psychic Reading Team incorporate meditation, yoga and other spiritual practices into their overall health and would be glad to introduce you to the area of well being.
Posted: 03/07/2019