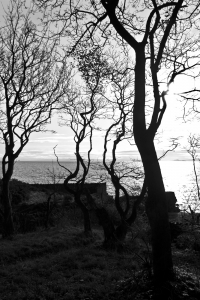 The Paranormal, what we describe as experiences that lie outside the range of normal experience or scientific explanation, has become a popular theme in past and present popular culture. After decades of numerous films and television series, audiences are still captivated by the Paranormal, as new releases go on to be as popular as ever.
Demand has never been stronger for the Paranormal in the media, but what is it that makes us so curious about the afterlife and the unexplained? Popular culture allows us to visualise things that we may not otherwise experience in our day to day life and our quest to explain the supernatural has led to extensive productions that are now normal in our everyday media consumption.
TV programmes such as 'Most Haunted' and 'Ghost Hunting' have proved to be huge hits for channels, as audiences tune in to watch 'real life' scenes of ghostly activity. Popular entertainment has turned the Paranormal into the 'normal' and it is now not unusual to see séances, psychic communication, and ghostly encounters on our television screens, supplying the publics love for the strange and the bizarre.
Much of our fascination comes from the need to discover what happens to us after we die. Statistically around 250,000 people die every day, and for those left behind it can often be a natural impulse to try and communicate with them to find out if they are at peace or torment. However, film and television adaptations of the afterlife are often extremely exaggerated and feed our imaginations with spectacular special effects and story lines, keeping us fixated.
The Paranormal Activity movies have been one of the most successful franchises over the last few years. The story of each film centres around a couple or family who believe they are being haunted by a supernatural presence in their home. Presented in documentary style, similar to Most Haunted and Ghost Hunting, the films are all based around 'found footage' captured by a camera set up in the home.
The success of the first film has led to several sequels with Paranormal Activity 4 set to be released this month. Similar titles including The Sixth Sense, What Lies Beneath, and The Exorcist have all become commercial huge successes because of the audience demand to experience unseen forces and seek out unexplained mysteries. But the fact still remains that no film has been able to provide an explanation for the paranormal activity that takes place.
This mystery leaves us questioning whether such activity happens or whether it is a figment of the producer's imagination. Many sceptics want paranormal activity to be explained by science or solid proof, and often television and film productions give us some feeling of evidence that these things really do exist.
For those who do believe in the paranormal, finding evidence is a huge part of validating their beliefs and proving its existence to the world. For those spell bound by the supernatural, paranormal activity will be part of popular culture for as long as audiences continue to be captivated and intrigued by the unexplained.
If you have felt inspired by a film or television programme and would like to contact a lost loved one then we are more than happy to help you. Psychic Light has many gifted readers who can guide you through the process and explain mediumship in more detail.
Posted: 21/11/2012