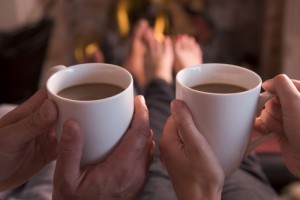 Living together is a logical step for any couple that are committed to each other, and many people consider moving in with a partner a 'test run' for married life. In fact, a study released earlier this year revealed that couples that live together before they walk down the aisle could make a relationship last around 8 years longer. While this is great news for anyone ready to move in with their significant other, there are a few things you need to consider before you shack up. Whether you have been with your partner for years, or just have a feeling that they are the 'one' we bring you a guide on moving in.
Are you ready?
Every person is unique and every couple is different. While some living arrangements could make one relationship last 50 years, it could be the breaking point for another. Your partner is going to see you at your worst and best, and vice versa, so ask yourself whether you not only love your partner but you really really like them! Do you laugh together? Do you share interests?
Are you able to truly be yourselves with each other? If you get fed up of each other easily or stress about their annoying habits, then living together will only magnify these issues and make them worse. If the feeling is that you can't get enough of each other, and accept each other flaws and all there's a good chance you will stand the test of time. A good test of a compatible match in the home is a successful holiday together.
Trips away test your finances, stress levels and ability to spend 24 hours a day with your loved one. If you can survive and thrive during a week away then you will have more realistic expectations when entering cohabitation.
Tips for moving in
If you decide you're ready to take the plunge then the following tips can increase the odds of a harmonious living arrangement:
Maintain your independence – As much as you love spending time with your partner, when you live with someone there should be a good balance of 'us' and 'me' time. Separate interests, hobbies and friendships make you both unique, and different experiences built into your living arrangement will keep the relationship fresh.
Discuss responsibilities – Talking about finances and chores before you move in will ensure that you are both on the same page and minimise the chance that you will end up disappointed.
Working hard on your relationship and making a clear commitment by moving in with your partner can be a huge step in your lives together. Should you need any guidance or advice along your path, Psychic Light are on hand to support you.
Relationship readers can offer a friendly voice to talk about your hopes and fears regarding the future. You may also want to discuss the financial strains of living with another person if money is causing problems within your relationship.
All it takes is a little forward thinking and a great bond with your partner, and your cohabitation should last for many happy years.
Posted: 02/07/2014