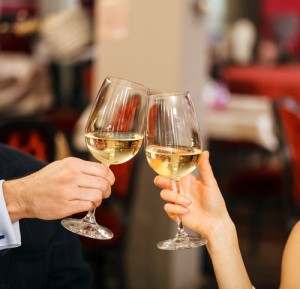 If you have been watching Channel 4's recent documentary series 'First Dates' you will have seen the thrills, fears, and loves of real people in the modern dating scene. The show brings people from all walks of life to one restaurant where the conventions of dating are scrutinised. Using a fixed-rig, the series follows new couples each week in the unique restaurant where everyone is on a first date. While being funny, touching and entertaining, the episodes also provide a helpful lesson in the art of dating. First dates are always nerve-wracking and loaded with expectations. It's almost impossible not to overthink the first date and it can be hard to come up with something novel and interesting to do. Regardless of whether you hit it off or choose the date perfectly, the key is to relax, enjoy yourself and remember that Psychic Light is here to guide you through the process. Here are our top suggestions on how to make the most of your first date.
Be Yourself
A first date is not the time to try out someone you would like to be. After all, you want the other person to fall in love with the 'true you' along with your faults, quirks and all the things that make you special! Let your personality shine through and the other person will appreciate you for who you really are.
Choose Your Venue Carefully
If you are doing the choosing, choose a place your date may enjoy, and that you feel comfortable with. Drinks or lunch in a cafe, a small bar or a great place you know is all good ideas. Keeping the date short means that if you don't hit it off, you won't have to sit through a long dinner together. If you do like each other, there is always the option to extend the date or meet up again.
Arrive on Time
Being late for your first date might be a deal-breaker with the other person. However, if lateness can't be avoided, be sure to ring ahead and let your date know.
Make an Effort
While it's important to dress to impress, make sure you feel comfortable in what you're wearing. Choose an outfit that both looks good and helps you exude confidence.
Don't Rely on First Impressions
First impressions can often be misleading. Instead of ruling someone out straight away, take the time to get to know them. Making up your mind on someone based on what they're wearing or what they do for a living could mean you risk missing out on a great match.
Enjoy
Finally, make sure you have fun on your date! You will come across much more relaxed if you are enjoying yourself so try not to take the date too seriously. Be honest and kind, and if you're keen for a second date tell them! If not, then be as truthful as possible without hurting your date's feelings. If you are reading this and are feeling nervous or excited about a first date then get in touch!
Many of our readers are gifted in love and relationship readings, and callers often find that speaking to a psychic leaves them feeling rejuvenated, clear in heart, mind and soul and ready to face the world. Psychic Light's specialist readers include Bryony, Marcus and Michaela amongst many others, so take a look at our professional psychics' page for detailed descriptions and reader profiles. Our friendly readers are awaiting your call!
Posted: 09/04/2014