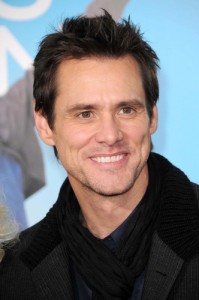 Prediction of Success
Jim Carrey has recently revealed, in an interview with Yahoo! Movies, how a psychic predicted his ground breaking success a year before he hit the big time.
The Canadian comic told of how he was driving through LA back in 1993 when he spotted a sign for a fortune teller.
"I was driving down Melrose Avenue in Los Angeles and I saw one of those crazy 'psychic reading' signs and I thought: 'That sounds like fun.' " he said:
Psychic Reading
"So, I went in and had a reading done, and this psychic reader said: 'You're about to do three projects that will change your life forever and will make it very difficult for anyone to ever bring you down from the place you're going to be, which is a really good place'."
Fast Forward
Fast forward a year and the actor had gone from being a little known comic performer to one of the highest paid movie stars in the industry. After a trio of lead roles in 'Ace Ventura: Pet Detective,' 'Dumb & Dumber' and 'The Mask' Carrey garnered critical acclaim along with a nomination for a Golden Globe Award for Best Actor in 1994.
Peter Farrelly, one half the Farrelly brothers, who co-wrote/directed the comedy hit 'Dumb and Dumber', spoke of how he was unaware of the actor before casting him, and how he only landed the role by chance.
"When we got [Jim Carrey for 'Dumb and Dumber'], I'd never heard of him actually," "He had shot 'Ace Ventura' and 'The Mask', but they weren't out yet."
"I wanted anybody, because everybody was passing [on 'Dumb and Dumber']. Then 'Ace Ventura' came out and we had a movie star on our hands."
Coming True
So it seemed that Carrey's psychic had turned out to be very much correct in their prediction about the actors rise to the top. Following his breakthrough in 'Dumb and Dumber' Jim went on to star in 'Batman Forever', 'The Truman Show' and 'Eternal Sunshine of the Spotless Mind', all furthering his international acclaim and adding to his emerging fan base.
Our work is one of the most important and central aspects of our lives, which could be why so many people turn to a psychic for career advice.
Psychic Guidance
If a new opportunity or important event is on the horizon, a psychic reading can give you the guidance and confidence you need to succeed. Just like Jim Carrey, you'll be amazed at what can change once you know the events that are lying ahead of you.
Our psychics are on hand at any time, to give advice on any matter. Whether you want to find out if you are on track to achieve your career goals or simply want to have a chat about work colleagues or how to prepare for an upcoming presentation, give us a call.
For an in-depth career reading right now, get in touch with one of our gifted readers and pay by phone or by credit card.
Photo – Editorial credit: s_bukley / Shutterstock.com
Posted: 28/01/2015