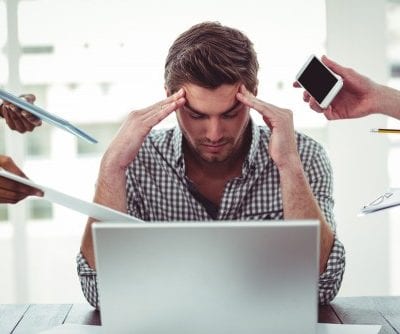 Separating the stress you experience at work and the stress you experience at home is easier said than done. If you've had a tough day at the office, walking through your door with a smile on your face can feel like a forced effort. The same applies if you are experiencing stress at home. Walking into work fresh-faced and focused can feel near impossible. Psychic Light understand that stress is a frustrating obstacle in your life, and for that reason we've put together five important tips to help you find the best way to manage your stress…
Gain some perspective
When you become overwhelmed and frustrated, it's easy to exaggerate your problems and let them get you down. Instead of focusing on the negatives, concentrate your energy on solving the problem in hand. For example; if you have a lot of work to complete in a short amount of time, create an achievable timetable. This way, you'll be able to see all the work you need to complete and prioritise what you have to attend to first. Each day, you'll find your stress levels decrease and by being organised, you're less likely to resort to taking short cuts or overlooking the assigned work.
The power of self belief
When you're stressed you may feel like giving up or begin to doubt yourself. Even the top businessmen and women constantly reassure themselves in order to deal with the stress thrown at them on a daily basis. This strong sense of self-confidence allows them to accept challenges and overcome them. Remember: believing in yourself is a powerful tool that helps you achieve greatness.
Take responsibility
In order to combat stress, you have to understand what areas are out of your control. If you are constantly worrying about something that is out of control, it's likely that your stress levels will only continue to increase. Instead, look for things you can do to reduce the effects of a stressful situation. For example; If a family member is taken ill, you have to trust in the doctors and medicine, however you are able to offer support and strength to help others cope.
Immerse yourself in positive surroundings
If you are surrounded by negativity, you will not only become pessimistic, but your stress levels will continue to increase. Surrounding yourself with mentally strong and supportive people will help you tackle the stress and live a happier life.
Make time to have fun
Making time to relax and have fun is so important in the fight against stress. Whether it's spending time with family, watching TV or going on a bike ride, make sure you take the time to chill out refresh. If your mind is constantly focused on work, or stress at home, you will only make the problem worse. Remember that your stress levels will only continue to increase if you don't tackle the source of the problem. If you are unsure why you are stressed or confused about how to solve a certain issue in your life, Psychic Light are here to support and guide you in living a stress-free life.
Posted: 01/06/2016