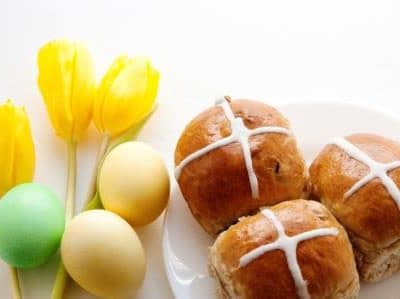 Hot Cross Buns
Did you know that in 1592 Queen Elizabeth 1 decreed that the delicious Easter treat, the Hot Cross Bun, could only be sold on Good Friday, Christmas or interestingly – for burials!
Thankfully, no such law exists now. Something that supermarkets are no doubt glad about, as it is often one of the earliest signs that Easter is approaching as these baked buns start appearing for sale.
Good Friday
It is traditional to eat the Buns on Good Friday, it was a way of marking the end of Lent, that made dairy foods forbidden. They would often have been eaten hot straight from the oven, or toasted as we do today.
Some believe that the tradition started at St Albans Abbey, where one of the Monks – Brother Thomas Rocliffe, baked a recipe called an Alban Bun in the 14th century. These buns were distributed to the poor on Good Friday.
The cross on the bun is supposed to represent the crucifixion of Jesus, and in fact the spices used in the recipe signify the spices used to embalm him at his burial!
London Street Cry
We might be more likely to recognise Hot Cross Buns from a London street cry, which first appeared in 1733 in Poor Robin's Almanack:
Hot cross buns,
Hot cross buns,
One a penny,
Two a penny,
Hot cross buns.
If you have no daughters,
If you have no sons,
One a penny,
Two a penny,
Hot cross buns.
If your sons don't like them,
They're the only ones,
One a penny,
Two a penny,
Hot cross buns.
I don't tell jokes
And I don't tell puns,
One a penny,
Two a penny,
Hot cross buns.
Get them while they're hot
And eat them by the ton,
One a penny,
Two a penny,
Hot cross buns.
Superstitions
Folklore suggests that if you baked your Buns on Good Friday, they would last a whole year. Many would bake one extra, so that they could hang it in the kitchen – which was supposed to protect against fires, as well as ensuring perfect loaves of bread throughout the year.
Hot Cross Buns were also given to sailors, legend says that taking these baked buns on a sea voyage would protect the vessel from shipwreck.
A lovely tradition surrounding the baked good, is to keep and share a bun with someone who is feeling poorly. In this context it is supposed to have medicinal properties, that will help the person recover.
Moon Phases
The 8th of April brings with it the Paschal Moon – the first Full Moon after the Spring Equinox. Easter Sunday is the first Sunday after (12th April 2020). You may hear April's Full Moon referred to in other ways as well: Seed Moon, Budding Moon and even New Shoots Moon. No doubt referencing the fact this is a time for sowing crops and plants, and that the dark nights are fading back, as we make way for warmer weather and fruitful harvests.
Posted: 09/04/2020