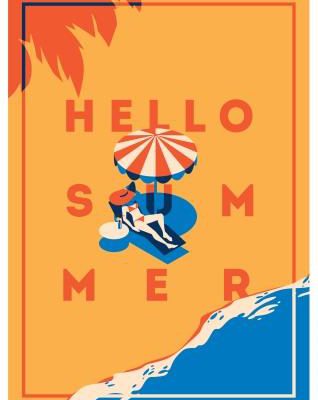 Whether you are staycationing, or are managing a holiday abroad in a 'green' zone, there are pesky ailments that come with summer, that can put a damper on festivities.
So, we arm you with solutions to the holiday problems…
Hay Fever
If you are a hay fever sufferer, you will be familiar with the runny nose, itchy eyes and sore throats that can ensue. There are medications that your GP or pharmacy can help with. But there are also some simple remedies to avoid the worst:
Use a weather app to check for high-pollen days.
On high-pollen days keep your windows shut, particularly in rooms you sleep in.
Some people swear by eating local honey. Another trick is to use a nasal balm or Vaseline to trap pollen before it can get up your nose.
Avoid hanging washing outside, especially bedding & towels that touch your face.
If you've been outside, shower and wash your hair to get rid of any settled pollen.
In the UK pollen tends to peak around midday and then pollen showers (where pollen falls back down) can occur around 6pm-9pm. So, avoiding these times outside when pollen counts are high can help.
Holiday Sunburn
We are now much more aware of the dangers of the sun, skin cancer and so on. However, it is really easy to become complacent in the UK when days feel warm, but not that sunny…
Regardless of where you are in the world, the sun is usually at its strongest between 11am-3pm.
Buy a high SPF factor cream, and don't forget to buy one with a 4- or 5-star rating for UVA coverage. 30-40% of UVA's still get through in the UK on average on a cloudy day.
If you do get a mild sunburn, a cool shower/bath can be useful (no longer than 10 minutes), followed by after sun, rest and plenty of fluids.
If you have signs of heat stroke or severe sunburn: dizziness, headache, chills, high temperature, blistered skin – you should seek medical advice.
Prickly Heat
If you suffer from prickly heat, you will know how annoying it can be. Doctors might refer to it as 'Miliaria'. Essentially it is a skin rash caused by sweat that gets blocked.
Washing with an antibacterial soap/wash can be helpful.
Air conditioning is your friend – spending a few hours in a cooler space per day can soothe things.
Wear loose cotton, breathable clothes.
You can try soothing the rash with dry skin creams like E45, calamine lotion (if itchy), or hydrocortisone cream (steroid) – under pharmacist supervision.
Holiday Food Poisoning
There are more than 500,000 cases of food poisoning in the UK each year, and these often occur when the weather is hotter and bacteria are allowed to thrive.
If you are eating outside, take food out of the fridge at the last minute. Be careful about eating any leftovers that have spent any length of time outside.
Think carefully about what foods to prepare for a picnic, and use ice packs to keeps things cool.
Use temperature gauges to check that meat is cooked through when BBQing.
If you are eating out, don't be afraid to send something back to the kitchen if it is not cooked through.
If abroad, play it safe and drink only bottled water, and be aware of the risks surrounding ice (made with tap water), and things that are likely to have been washed in tap water, like raw vegetables, salad and fruit.
Bites & Stings
If mosquitoes like you, then you will know how they can turn a lovely holiday into an itchy nightmare.
Insect repellents containing Deet are probably still the most effective guard against mosquito bites.
You can purchase some clothes with a built-in UV filter, these help block out the sun, but have the added benefit of preventing insects from biting you.
Wear light-coloured clothing, as insects like mosquitoes are attracted more to dark colours.
Pay special attention to your neck, ankles and wrists, as these are commonly bit areas.
If you are bitten, oral antihistamines and hydrocortisone cream topically can help with the itch – try to avoid scratching! An icepack or similar applied to the area as soon after biting can also reduce symptoms.
Whatever you do for a holiday this summer – enjoy!
Posted: 22/07/2021