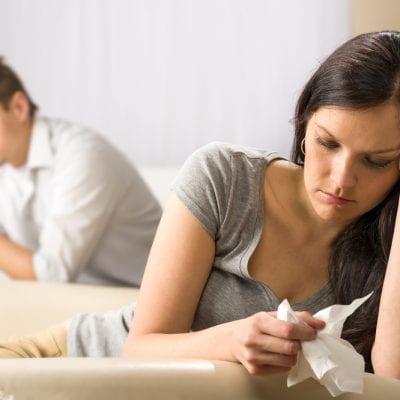 There are only certain people in our lives that we trust with all our heart, so when that trust is broken, you may find yourself struggling to cope.
Whether the trust was broken by your life partner, a family member or a friend, you will feel hurt and betrayed by their actions.
If you have experienced a betrayal in trust, read on as these strategies will give you the power to cope…
Mourning
Trust is one of the most important qualities in a relationship. When it is broken, you may feel angry, upset or disappointed. There is no limit on how long it will take you to accept that your confidence in this individual has gone, so take this time to mourn, begin to heal and look forward to the future.
Reach an understanding
Once you have mourned the loss of trust, now it's time to understand what caused this to happen. Depending on the circumstances, if you can begin to understand this person's reasons for betraying your trust, you may find it easier to move on.
Talk to your friend or partner to find out what caused them to act in this way. Was it fear or conditioning from their past? Or if they cheated, was it purely physical? By exploring their reasons, you may find that you are able to forgive their actions.
Accepting your role
While you may not be the person who caused the betrayal, try and avoid being self-righteous. Ask yourself whether there is anything you could have done differently or if your behaviour contributed to this outcome.
If the betrayal came completely out of the blue and you had no part to play in their actions, you can still try and learn from the event. Maybe you trust others too easily, or are choosing the wrong type of people to trust? Even though this lesson can be hard to accept, if you can learn from it, you will come out stronger and wiser.
Forgiveness
While you do not have to forgive, being open to forgiveness can be a great healer. Forgiveness is something that you can only achieve yourself, and for some it helps them to cope with the situation.
Feelings of hate and revenge can be hard to overcome, and it takes a lot of courage and strength to forgive and move on with your life. However, try and be open to this possibility – it may be best for you in the long run.
Looking forward
Once you have forgiven it is time move on. If you choose to keep the person in your life, don't hold their actions against them. If you're unable to forget the hurt they caused you, then let go and move on.
Are you in a situation where you are confused about whether you should forgive and forget or let go? Then, our psychic readers have experience and insight through their intuitive readings.
About Psychic Lights
Our psychic readers are very open, friendly and insightful people. Pick up the phone and call one today if you need answers to life's questions. Alternatively, we also offer psychic readings via emails. With the insights you have gained you can make the best decisions for you moving forward.
Posted: 28/02/2020