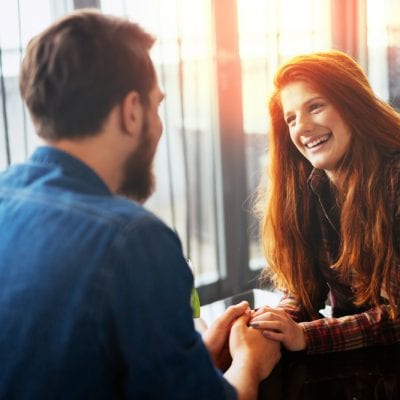 Whether you're newly single or have just begun your search for your soulmate, going on a first date can cause a lot of nerves and butterflies!
Feeling nervous is completely normal! But, to ensure anxiety doesn't overpower this fun and exciting occasion, follow our top tips to banish first date nerves for good.
Are you a match?
Before you go on your date, make sure you have a genuine connection with the other person. By learning more about their likes and dislikes before the date you can be confident that the conversation will flow. Hopefully you'll also find something in common.
Agree on an activity
Suggest a short date, such as meeting up for a cup of coffee. As if you don't feel a spark or connection with the other person you are not committed to spending an entire evening with them. Pick a destination you are comfortable with. Somewhere you will be relaxed and excited to meet rather than filled with dread and fear.
Meditate
Before you set off for your date, set aside ten minutes to calm your mind. By taking part in this spiritual practice, you can relieve racing thoughts and jitters. Leaving you to focus on calmly preparing for your date. So, breathe in and out slowly and look forward to meeting your potential partner.
Visualise success
Banish negative thoughts by repeatedly telling yourself that you are confident and ready to accept happiness. By visualising a successful first date, it is more likely that this will be the outcome.
Feel good
Confidence oozes when you're feeling good. If you are feeling negative about yourself or wearing something you feel uncomfortable in, your tension will become apparent to your date. Be yourself!
Avoid silence
Even though one or two moments of silence are not a deal breaker, constant silence throughout the date can be awkward. Before your date, read over their likes, dislikes and topics you have in common. Also, prepare to have a few points ready to talk about if the silence becomes too frequent.
Show interest
Talking about ourselves and showing little, if any interest in your date can be a turn off. Make an effort to ask questions and listen to what they are saying. This not only shows you are interested in them as a person, but it may help you decide whether they are a match for you.
Don't be afraid of asking for help
If you feel as though you can't talk openly to your friends, do not keep your concerns to yourself. Our psychic readers do not judge; they offer insightful advice that will guide you in all aspects of love, dating and relationships.
About Psychic Lights
Our psychic readers are very open, friendly and insightful people. Pick up the phone and call one today if you need answers to life's questions. Alternatively, we also offer psychic readings via emails. With the insights you have gained you can make the best decisions for you moving forward.
Posted: 28/02/2020