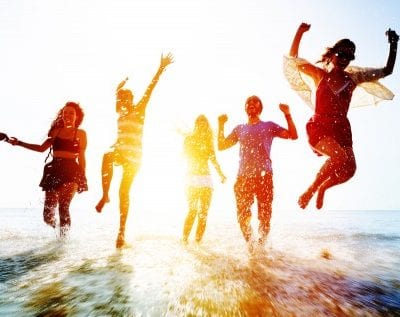 Instead of waiting for the New Year to make lifestyle changes why not start right now?! We're now more than halfway through the year, and your New Year's Resolutions probably feel like a distant memory. Instead of wasting your summer away, follow our guide to quick and simple resolutions you can make right now and make it a few months to remember…
Go outdoors
For the majority of the year we find ourselves moaning about the cold weather and the rain, so when the sun comes out, take advantage! Direct sunlight allows our body to absorb vitamin D which we need to keep our bones healthy. Sunshine also has a tendency to put a smile on our face!
Challenge yourself physically
Taking up a sport or class you enjoy gets you out of the house whilst increasing your health and fitness. You may even find you to meet new people and it can be a great social activity too.
Challenge yourself mentally
If you're not the sporty type, you can still challenge yourself by learning a new language, reading up on a subject you are interested in or joining a games night. When you go jet off on holiday, you can impress the locals with your new language skills and take pride in your newfound knowledge!
Make plans
Unfortunately, not every day in summer is filled with sunshine, which means we have to plan for the rainy days. Make a list of everything you want to complete, whether it's picking up the weekly shopping or clearing out the clutter in your house. By sticking to a list, you will find you become more productive and increasingly relaxed.
Work or volunteer
Taking up a summer job is a great idea as it allows you to fund fun summer activities while giving you a bit of extra cash in your pocket. If you don't have time to commit to a job, why not volunteer and use your spare time to help others.
Travel more
Regardless of where you go, take time out to relax and enjoy yourself! You don't have to go far or spend lots of money to enjoy a holiday. You just have to make a point of getting out of your routine and going somewhere else. A year from now, you will be glad you spent that weekend away rather than sat at home watching TV!
Follow your passion
Why not use the summer months to follow your passion and explore something you've always wanted to do. Schedule a few hours a week to fulfil whatever that may be.
Get fit
Over the winter we tend to overindulge ourselves, and before we know it, summer has arrived. Physical activity has proven to release endorphins which makes us happier. By taking part in regular physical activity, you'll find that your body tones up and before you know it, you'll have achieved your summer body! Regardless of the day or time, Psychic Light is here to offer guidance or advice. Please don't hesitate to get in touch with one of our psychic readers and we wish you all a happy and productive summer!
Posted: 20/07/2016