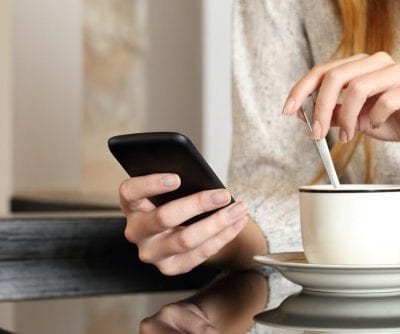 The demands of busy modern life have increased dramatically over the past few years, and as a result, so has our need to seek quick and accessible psychic guidance. When it comes to life's everyday questions, psychic text readings can be a quick and convenient way to get answers delivered straight to your phone.
Statistics show that 93% of adults in the UK now own a mobile phone, and as a result text readings have become increasingly popular with the modern individual who can benefit from getting answers to their burning questions 24 hours a day, 7 days a week.
Psychic Light offers 4 great text services, all of which can guide you on a range of different matters.
Love Text Message
Relationships are undoubtedly one of the most important parts of our lives; therefore it's unsurprising our Love Text Message service is one of the most popular. A psychic text reading can be one of the best ways to address worries or doubts about your love life, relationships or future happiness. Sincere psychics are waiting to answer any question you may have… Simply text 'Love' followed by your question. 
Text a Psychic
For advice on how to proceed, or for guidance on an upcoming event, you can also text a psychic. Our friendly and experienced readers use a wide range of skills to assist them divine the future. Simply ask the reader to predict your future outcome and receive an enlightening reply. Text 'Psychic' followed by your question.  
Text for Advice
If you are seeking advice, don't just sit and worry about a potential problem. Simply text details of any issue you have and a reader will answer with sense and sincerity. Text 'Advice' followed by your question.  
Text for Tarot
Finally, you can choose to receive a tarot reading in order to understand your current situation and events you can expect to encounter in the future. Tarot cards have long been regarded as one of the most insightful and powerful tools used in predicting the future. To receive your 3 individual tarot cards Text 'Predict' to 84184 and we will send you 3 randomly selected cards and explain their meaning. (The cost is £1 per card, £3 in total. 18+ only.  
The great thing about Psychic Text Readings is that they give you the opportunity to read your advice over and over again. Your response will be delivered straight to your mobile inbox, giving you the privacy to study and read your message at your convenience.
Text readings are not so different from the real thing and each individual will be treated with the same care and attention as they would during a live reading.
Our readers will strive to be as clear as possible in their response Psychic Light has a wide selection of readers well and truly at your fingertips, so if you are looking for answers get in touch today. All text messages should be sent to shortcode 84184. (£1.50 per message received + standard network charges. Between 1 and 3 messages per reply. 18+ only. Terms apply.) Customer Care: UK: 0113 3847008.
Posted: 27/05/2015