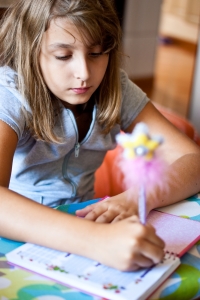 With the excitement of summer 2012 coming to a final close, parents, children and commuters have all been brought back down to earth with a bang with the start of the new school year. Rather than letting the stress get to you, we have a few handy hints that can make things run a bit more smoothly this September.
With the Jubilee, Olympics and Paralympics all taking place around the UK, we have all done our fair share of celebrating this summer. Such a fun and exciting few months can make children (and adults!) reluctant to get back into an established routine at home when September comes back around. To avoid tantrums and tears that are associated with going back to school, then plan a daily routine that the whole family can stick to.
A stress free morning routine can be easily achieved if you keep consistent and follow regular procedures. Try to prevent yourself raising your voice, no matter how frustrated you get it will probably only escalate the problem and add to everybody's stress levels! To avoid being late for school, make sure everyone has done all jobs the night before.
Homework, showers and baths, and lunches should all be done and ready to go so there are no surprises in the morning! In addition to this, the main key to having a stress free school morning is to have a smooth bedtime routine. Bedtime routines are vital, especially for younger children and once you set good habits it'll make school evenings much easier.
Encourage calm time before they go to bed, with activities such as reading and calm play rather than playing on the computer or running around outside. Many children benefit from a daily 11-12 hours sleep, and remember that early to bed, early to rise! Preparation is key when children go back to school and once you have your daily routine in place, make sure you have budgeted for expenses like school uniform, stationary, sportswear and school books. These costs will come as much less of a shock if you have prepared for them in advance!
For those without children, 'back to school' can be just as stressful as the school traffic can add on vital minutes to your daily commute. Leaving your house 10-15 minutes earlier is a must depending on your route. Set your alarm a little earlier to make up for lost time in the morning.
If the start of this September is getting too much for you then Psychic Light can give you the support you need to get through with as little stress as possible. If you are going through a relationship breakdown or starting a new career and trying to concentrate on supporting your children at school at the same time, we can guide you along your path and help you make sense of seemingly confusing situations. Don't hesitate to get in touch with one of our readers now.
Posted: 12/09/2012