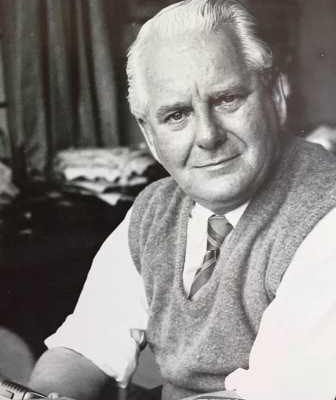 I want to share an update on some of the work I do in the realm of healing.
Healing Sanctuary
The guide I work with is the very famous Harry Edwards. His Healing Sanctuary in Burrows Lea is still open to the public to this day, even though he has been in spirit for many years.
My Spirit Guide
I first met Harry when he visited me in my crystal ball many years ago, he was a smart gentleman with white hair and he was wearing a white coat like a doctor would wear; I had never seen him before. I was looking into my crystal ball and he literally appeared! He was talking to me and yet I couldn't hear him. I asked him to talk louder as I couldn't hear him, it was like Skype with no sound!
All of a sudden, my two Shiatzu dogs ran to the front door and started barking, it was 10 o'clock at night. We had a glazed piece of glass in the door and the best I could do was look through it, I was not opening the door that was for sure. I couldn't see anyone so I didn't open it – fear or superstition got the better of me.
The next morning my door was banging and this time I could see the postman so I opened the door. He had a lovely smiling face and he said "Good morning, I could have let myself in but I thought I'd better knock." He was holding up my keys… I'd left them in the door all night!
Trying to Assist Me!
I knew immediately that the man in my crystal ball was trying to look out for me and if only I would have opened the door, I would have seen them. Luckily nothing happened, but I knew he was a good man trying to assist me.
Harry Edwards
My father had left me lots of spiritual books when he died, and the next day, I was reading one of them, it was a Doris Stokes book. As I read on, she started to describe this man in a white coat with white hair and she said his name was Harry Edwards. I couldn't believe the coincidence it certainly was designed by fate because she told me his name.
Confirmation
It was verified when that very week I went to the Spiritualist Association of Great Britain (SAGB) in Belgravia, London, it has moved to Battersea now, but as I walked through the door, I was greeted with a massive bust of the man I saw in the crystal ball. The one and only Harry Edwards was in the entrance of the SAGB a marvellous spiritualist church and healing sanctuary.
I knew this was no coincidence. Harry was England's finest healer and he was famous for it. I discovered that he filled the Royal Albert Hall with healers demonstrating healing. I am truly privileged to have him as a guide for me.
Healing
Sam Buxton Sunflower Healing Trust as we speak is successfully raising money to put healers in NHS hospitals with a normal salary. She has placed them in the cancer patient wards. They feel healers do a lot of good in this area.
I have had experience in this area; I was healing a man who had cancer; I'm so delighted to say, that he is now in remission. An effective combination of doctor/healing seems to work really well.
Animals & Humans
The story I'm going to relay to you tells us healers can be effective in all departments and with all ailments, whether a person or animal is suffering. We need more healers in hospitals/vet centres working together with doctors and nursing staff to create a more holistic treatment path, and to facilitate a complete recovery.
A True Story
I had been to the LGI hospital before with Harry as my guide, a friend's little boy had a terrible drowning accident and although he survived, he had brain damage and they said he wouldn't be able to swallow.
Healing Hands
I went to see him and as I laid my hands around his head, I was not touching him directly, but more scanning the area as he slept. Children benefit more when asleep especially with this type of healing. As I started to go around his throat chakra area, I noticed that the energy counterpart to his throat had shut down. It was at this point that through me Harry started to fix things.
I believe the electrical counterpart had short circuited and would not operate the throat properly. As I continued to hold my hands in place all of a sudden, he started to choke. I looked around at the nurse and his uncle but within a split second he stopped choking and I removed my hands from the area. All the while I wasn't touching him, I just had my hands near the area.
I am happy to say that within two weeks of this event he was eating and swallowing!
Needing Harry's Support Again
In May of this year, I found myself needing Harry's guidance once more. This time I was called to the hospital as my eleven-year-old nephew was terribly ill.
When I got there, I knew Harry was with me. I went straight to my nephew and placed my hands on his head and saw the relief in his face.
He was being treated for meningitis, but the doctors really didn't know what was wrong with him. They had given him a brain scan and a lumber puncture and were about to do more tests on him. At this stage he was facing many more weeks in the hospital or worse, and still no clue what was wrong with him.
Receiving Answers
I finished doing some healing on my nephew, and turned to his mum, who understandably was distressed. As I provided healing to her; all of a sudden, in my mind's eye through Harry, I could see the whole room filled with soil – literally every inch of it!
I asked his mum if he had been playing in soil and she said they had dug the foundations of their house to build a small building for her business two weeks prior. Also, he had played rugby the day before on a muddy field.
My brother was there so I told him to tell the doctor, but at first, he was a little hesitant, as he was not sure what the doctor would think of him relaying a psychic message!
With a little assistance from Google I was able to discover there was an illness called 'Weil's disease', contracted from contaminated SOIL. My nephew had all of the symptoms.
A Fantastic Ending
I went back to work at Psychic Light and my brother waited for the doctor and told him what I had said. He went away with a questioning face and came back just thirty minutes later and said "The psychic has solved the case!" He even wrote my name in the official case notes as diagnosing him correctly! I'm happy to report he was eating and playing happily the next day at home.
The Power of Spirit Doctors, Healers and Guides
Now that is the power of Harry Edwards and the spirit doctors who tirelessly work on trying to heal all of us!
Jesus was the greatest healer and the laying on of hands was his method. It was Harry's method and it is my method. My mediumship allows me to commune with God and the angels that work with him including the very fabulous Harry Edwards.
As the great healer Betty Shine once said:
"Having opened the door of Hope

untold wonders can be revealed."
Harry Edwards Photo Credit:
https://www.harryedwardshealingsanctuary.org.uk/
Posted: 21/06/2019
Related Category: Psychic Abilities