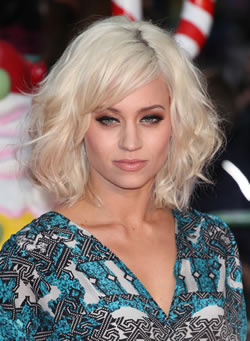 Speaking last week on TV show 'Superstars and Superfans' former Pussycat Doll and Sky 1's Got To Dance judge Kimberly Wyatt revealed that she has daily psychic readings to give her inspiration on what's to come.
Angel Cards
TLC's show 'Superstars and Superfans' provides a glimpse into the world of the real-life celebrity devotees, whilst delving deep into the lives of the celebrities over whom the 'superfans' obsess. Kimberly Wyatt who featured in last weeks 'Divas' episode, told her fans that she was a firm believer in the power of Angel cards, and begins each day by consulting what the future holds for her.
Kimberly explained how her daily Angel card readings reassured her about what is to come. She said: "I usually start with my Angel cards. What is my guidance for today, what is it that I need to know? It sounds like White Witch stuff, but it's really just daily affirmations and inspiration of what's to come.
Right now it's telling me everything's OK. As long as you don't focus on the worry and focus on a positive outcome, you can basically manifest that in your life."
Guardian Angels
As their name suggests, Angel cards are founded on the fact that each and every one of us has a unique guardian angel who loves and guides us unconditionally. Angel cards are conceptually similar to tarot cards, as they can give insight into anything from our relationships to our careers and finances, whilst giving the recipient peace of mind and confidence in their decisions. They differ from tarot however, as they are designed to tap into Angelic presence. Your reader will usually pass on any concerns you may have to your guardian angels and act as interpreter between you and your angel, passing back messages and answers to your questions.
Daily Journal
The singer also explained how she keeps a daily journal to keep her focused and in touch with her inner self. She advised: "Get it all out. Whatever's in your head, let it go and see what falls out of your brain. Or sometimes, I'll just get a picture in my head. [Here she holds up a picture of herself with wings with 'Flying Free' written underneath]. This one I drew when I was on tour. I'm free, I'm flying free and I saw this little girl with big wings."
Angel cards can be amazingly accurate and give comforting guidance when we need it the most. Much like psychic readings, angel card readings can be offered over the phone by Psychic Light's readers.
They look forward to hearing from you and guiding you on your spiritual journey.
Photo – Editorial credit: Featureflash Photo Agency / Shutterstock.com
Posted: 09/10/2013