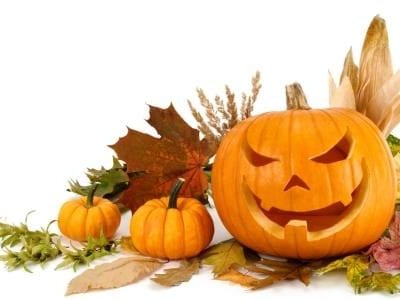 Halloween is otherwise known as Samhain, which translates as 'summer's end'. This makes sense as in Celtic tradition this period marked the end of summer considered to be the light half of the year and the beginning of winter, the dark half of the year. It was a time of feasting which has synergy with Thanksgiving festivals seen in America in November.
The Celtic festivals would concentrate on honouring those that had passed on, they believe that at the time of Samhain ghosts could walk the Earth. As such it was also a time when they were battling good versus evil, as a result of boundaries of the two worlds being at their weakest.
Mexico
A remembrance of the dead follows in many countries traditions. For example, in Mexico they celebrate Dias de Los Muertos – 'Days and Nights of the Dead'. The celebration is a mix of Catholic and Aztec origins. Today it translates as two days: All Saint's Day on the 1st November where children are remembered and All Soul's Day on the 2nd November where adults are remembered. They celebrate with a carnival type atmosphere and Days of the Dead is a joyful occasion rather than a sombre or morbid occasion.
Mexican people will honour their ancestors by creating alters at home, they will spend time there, say prayers, use incense, light candles and decorate with flowers particularly marigolds (another nod to the Aztecs as the marigold was a sacred flower).
China
Chinese people similarly honour the dead, they have offerings, festivals and ceremonies. The first event is Yue Lan, which translates as the Hungry Ghosts Festival. At this time food will be laid out to for any ghosts or restless spirits that may be walking Earth. The second event is Chung Yeung meaning Autumn Remembrance, where families visit graves and generally pay their respects to those that are no longer walking on Earth. The third event Ching Ming, to mean Pure Brightness – this is much later in the year usually in April.
Of course, in England the Halloween period has become more about dressing up in costume, pumpkin carving and trick or treating. You may be surprised by some of the origins of these practises:
Trick or Treat
The tradition of trick or treat is actually believed to have originated with the Christian practise of 'Soul Caking'. Children would ask villagers for cake, in return they would pray for the souls of departed loved ones. At the time carnivals or parades would take place on All Soul's Day, and people would dress up for the occasion, it is possible that this is where the idea of costumes for Halloween first started.
Jack O' Lantern
You might have heard of the tale of 'Stingy Jack', which originated in Ireland. There was a man named Jack, who carried many sins. On one night he was so drunk that his soul left his body. The devil appeared to collect the soul, but Jack begged for one last drink. Jack very cunningly got the devil to turn into a sixpence to pay for a drink for both himself and Jack. But Jack scored a cross on the coin and trapped the devil inside. In order to free himself the Devil agreed to leave Jack alone – but for one year only. The Devil returned a year to the day, but Jack tricked him for a second time, and in return secured to be left alone for life. Unfortunately, on his death, God did not allow him to enter heaven and so he was doomed to walk Earth eternally. The tale goes that he begged for an ember to light his way, he placed the ember for safe keeping in a turnip. Later on, when celebrating Halloween turnips became pumpkins and they are carved with lights inside to represent the glowing ember being held safe.
Posted: 31/10/2017