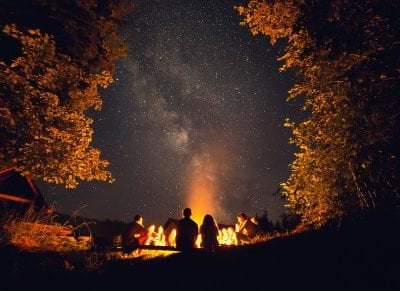 Every year on November 5th we all come together on the day Guy Fawkes failed to blow up and destroy the Houses of Parliament. Since that day in 1605, November 5th has become labelled and better known as 'Bonfire Night.'
Many bonfire night traditions have stayed the same throughout the years, consisting of fireworks, sparklers and bonfires taking place all over the UK.
There's a reason why so many people love fireworks, and their incredible display is what makes Bonfire Night special and impressive. Their interesting shapes, different colours and loud noises are mesmerising, however, fireworks are more than just a beautiful display. They also enrich our senses, and lift us spiritually and emotionally.
In order to gain the most spiritually this Bonfire Night, read our guide to how you can use fireworks to engage with your different senses and how you can carry on using this effect in your daily life…
Sight
Our sense of sight allows us to experience the beauty that surrounds us. When fireworks make their way into the sky and explode into patterns, for a few minutes, you become lost in their colours and all our problems seem to disappear.
You can apply this feeling in your day to day life. If you are in a situation where you feel sad, stressed or angry, close your eyes and think back to a happy moment. Focus on the emotions you felt and experienced at that specific time and let the negative emotions you are feeling explode into positive ones.
This 'spellbound' like state you are in can be experienced at an even greater level if you know how to use your third eye. Your third eye can be extremely powerful as it allows you to see what might be in the future and opens up our senses to the truth. Learn more about the power of the third eye here.
Sound
When we hear the sound of fireworks exploding, it's called the 'Crackle Effect', so called because of the snaps and crackles we hear when fireworks reach the sky.
Different noises can actually help us to release stress, lower our blood pressure and slow down our heart rate. This is why many people use the power of music to help release emotions.
Have you ever felt like you need to scream to release emotion? Make like a firework and express denials and truths out loud! It will allow you to take control of the situation and find the strength to move forward.
Feeling
Fireworks allow us to experience two different feelings. The first is physically feeling the ground rumble, and the second comes from within.
In our day to day life, certain situations can take over our bodies in a similar way. When we fall in love, are scared or witness something breathtaking we feel it both physically and emotionally. All these emotions we feel play a large part in the way we act in a situation.
When you are happy and in control, you are free from negativity and become unstoppable! So take a moment this Bonfire Night to step back and celebrate the moment.
While Bonfire Night is a day to celebrate, if you are feeling lonely or are seeking advice, Psychic Light are available to talk 24 hours a day, 365 days a year.
Posted: 02/11/2016