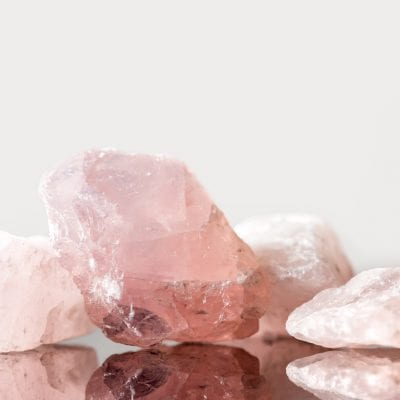 Throughout the years, more and more people have become aware of the power that crystal stones possess.
Recently, a few celebrities have spoken out about their new-found love for crystals and the healing powers they have had on their life to date. From Victoria Beckham to Miranda Kerr, they rely on their crystals to bring joy and happiness into their lives.
The power of crystals
For centuries, many people have turned to crystals to improve their lives. This could be to gain more positive energy or to even detract negative energy coming into their lives.
Crystals offer something special and unique to each person. A protective crystal absorbs any negative energy that comes your way, whereas a prosperity crystal has the power to attract positive energy and success.
A crystal isn't an 'item' that you should leave to collect dust, in order to gain their full benefits; they should be near or on you the majority of time.
Here's why a few celebrities have fallen in love with their crystal stones…
Miranda Kerr
From the moment Miranda Kerr saw her grandfather give crystal stones to her grandmother she began learning about crystals and the benefits that could arise for her from them.
Her crystal stone of choice from then was a small heart-shaped rose quartz which is known to have healing powers and encourage love.
Kerr keeps the rose quartz stone close to her heart at all times to remind her of self-love and allow the crystal to protect her at all times. In a recent interview with The Cut Kerr stated "we either come from love or fear" and that by having her rose quartz by her heart it reminds her to "always come from love."
Victoria Beckham
Victoria Beckham before her fashion shows turns to her crystal's power. It has become a ritual before her shows to channel her energy and offer protection and strength. She also stated she "bought crystals for all of her team" in order to detract anything negative that comes their way.
Even though she keeps this crystal on her at all times, she also has a Black Tourmaline that she keeps in her bathroom to attract positive energy into the home. 
Katy Perry
After Katy Perry's breakup with Russell Brand, she turned to crystals to attract healing powers as well as attracting new conquests.
Madonna was the celebrity that first introduced Katy Perry to crystal stones as she felt the power and energy of the stones will not only heal her broken heart, but would also assist her in finding love again.
Perry, similar to Kerr, was drawn to the rose quartz and finds the power of the crystal works best while she sleeps. She holds it in her hand through the night. Rose Quartz is a nurturing stone, which is perfect for when a person is filled with anxiety as it brings a sense of calm into their life.
Are you curious to learn more about the power of crystals or wonder which one would best suit you at this moment in time? At Psychic Light, there are many readers that can suggest which crystals will offer you guidance and clarity through your life.
Posted: 20/09/2017