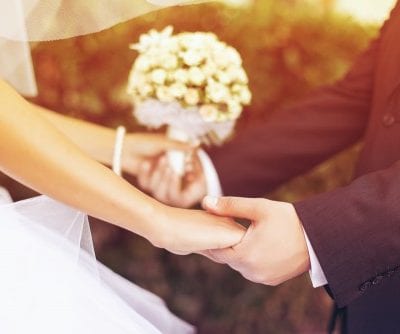 New research carried out in the US has claimed to have found the 'ideal' age for adults to get married! The study, carried out by Nicholas Wolfinger, a sociologist at the University of Utah, examined data from the National Survey of Family Growth in order to see which age group faced the highest risk of divorce.
Mr Wolfinger explained in his report: "My data analysis shows that prior to age 32 or so, each additional year of age at marriage reduces the odds of divorce by 11 percent." "However, after that the odds of divorce increase by 5 per cent per year." It has long been suggested that those who wed early in life are more likely to divorce than those who wait, but these new findings show that divorce risk actually increases for couples that delay waking down the aisle until their late 30's.
If Mr Wolfinger's theory is to be believed, it could suggest troubled times ahead for a number of celebrity couples who got married after the age of 32. Kim Kardashian married her husband Kanye West, when they were aged 33 and 36 respectively, while Brad Pitt (50) & Angelina Jolie (39) and George Clooney (53) & Amal Clooney (36) also tied the knot later in life. When asked for the reason behind the mysterious statistics, Mr Wolfinger couldn't offer an explanation, saying: "This is the $64,000 question." "I honestly don't have a great explanation. What I know for certain is it has happened." He also noted that the results were tested against basic demographics such as race, religion, sexuality and family background but no change was found, suggesting that none of these factors had an influence.
Despite the results, it pays to remember that there are a number of reasons why couples put off marriage until later in life, and it certainly doesn't mean that your marriage is doomed to fail. You may be concentrating on your career, saving money or maybe simply haven't found 'the one' yet. However, if you do feel that you are struggling in an unhappy marriage, have concerns about your future partner or simply have questions about what's in store for your love life, our psychics are always on hand to offer comforting support and guidance.
Psychic relationship advice
When you talk to one of our friendly and professional psychics about marriage, you can be sure that they will uphold the trust you've placed in them. A number of our readers including Maz, Hope, and Marcus are well versed in all aspects of love and relationships and can guide you along the right path. For an in-depth relationship reading right now, simply get in touch with one of our readers (see our psychics page) and pay by phone bill or credit card. Marriage is a unique journey, so remember that there is no reason why you and your partner can't have a long and happy marriage, no matter how old you are when you tie the knot!
Posted: 19/08/2015