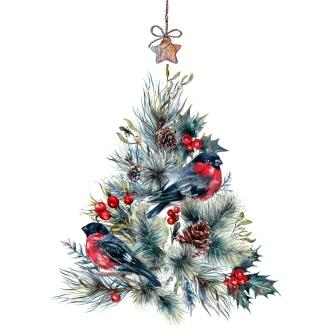 The wide array of Christmas decorations available to us today is a far cry from what would have once been used. But there are still some core themes that prevail like topping a Christmas tree with a star, and decorating with mistletoe and holly.
Do you know the origins of the decorations you use?
A Yule Log
A Yule Log is now most likely to appear in your house as a chocolate cake to eat, but originally it would have been an oak log/branch. The oak was chosen specifically for its ability to burn slowly over a long period of time. Before the log was totally burnt a small piece would have been removed, this was thought to bring good luck for the following year. The next year the small piece would be brought out and used as kindling for the new Yule Log fire. Today red candles are used in wooden Yule Log decorations and in the cake version to represent the flames of the fire.
Tree's
Legend says that St. Boniface felled an oak in the 8th century, an oak was sacred to Thor, and as well as felling the tree, he was felling Paganism itself. But underneath the felling a fir tree grew, that was dedicated to Christ. From that point Fir Trees, Pine and Spruce were brought inside as a tree or as decorations. Christmas has become synonymous with bringing greenery inside and partly this is because it was thought the act protected the household, lending resilience at what was traditionally the harshest period of the year when life was at its most fragile and vulnerable. Hanging some sort of shimmering decoration was done purposefully to catch the light and to encourage sun back into the world. Many of these trees can actually grow from a single pine cone, heightening their association with life, potency and re-birth.
Mistletoe
For Greeks, Celts and Romans Mistletoe was considered magical. It is a semi parasitic evergreen plant growing on deciduous trees, but despite this it is thought it was added to the drinking water of cattle to ensure their fertility. Along the fertility lines Mistletoe and other evergreens were gathered in to kissing bunches and hung in rooms to kiss under in places that people would frequently pass each other.
Christmas Star
Whilst there is technically no proof that a brighter than average star appeared in Bethlehem in the sky for Jesus' birth, it is possible that it seemed that way as a result of Saturn and Jupiter forming a conjunction at that time. Whether it was real or not the Star has become representative of the light of the sun, and a nativity emblem that led the Magi to Jesus.
Christmas Offer
To celebrate the festive season in December 2017 Psychic Light are offering a special credit card rate: A 20-minute credit card reading will cost just £27.95, SAVING YOU £5.00 ON EVERY CALL!
To use the offer, call Freephone 0800 915 2347 & Quote 'NOEL' You can use the discount code as many times as you like during the offer period.
The Christmas offer is available 9am – Midnight, between 1st and 31st December 2017 inclusive, £27.95 for the first 20 minutes, £1.50 per minute thereafter. At all other times the cost will revert to normal: £32.95 for the first 20 minutes, £1.50 per minute thereafter.
Check our Home Page banner for offer information at any time.
Posted: 01/12/2017