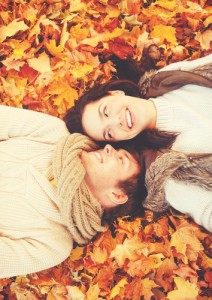 Summer is over and emotion is filling the autumn skies. Every season has its upside, but autumn is a particularly beautiful and stirring time, making it the perfect season to fall in love. As we shed our summer clothes and resume our autumn rituals, it makes sense that we are drawn to find a mate for the upcoming holiday season. So as you take stock in your love life and go back to work, are you ready to fall in love? 
5 Reasons to Fall in Love This Autumn
1. The Weather
The autumn weather makes it the perfect time to meet someone. Canopies of red, orange and gold fill your surroundings and the air is thinner making it easier to breathe. As cooler weather takes over, scientists tell us that our bodies signal that it's time to settle down and get ready for winter.
2. Get Fit
As summer disappears, many people tend to get back to their daily routines. For many people, this means a return to running, sports, and the gym – revitalising their bodies and re-engaging in a healthy lifestyle. Take this opportunity to sign up to a club or class and you never know you might just come home with a date!
3. Halloween
Decorations, costumes and colour; Halloween may not be thought of as the most romantic holiday but there is always something magical that surrounds the 31st of October. Halloween parties and events are the perfect time to mingle and meet new people and could lead to you meeting someone special.
4. Biology
Even in our busy modern world, humans are still very much influenced by nature, and biologically speaking, autumn is a dynamic mating season. In an interview with dating site Match.com, anthropologist Helen Fisher, Ph.D., explained:  "Biologically, fall is a logical time to fall in love," "Human beings are motivated to mate in the fall so babies will be born in summer, explains Dr Fisher. "It's an adaptive mechanism," summer is a time of plenty, a time of less stress, high nutrition and comfortable weather." Even if you're not planning on procreating in the months ahead, at a deep and primal level, we're driven to couple up, perhaps for keeps. We all realize it's time to stop fooling around." "Summer is a time when we're off, we're travelling, we're not part of our communities," says Dr Fisher. "But in fall we come back to our settled lives, get on with the important affairs of the living. We're in a position to make a long-term commitment now." 
5. Change
With the ever-changing temperatures, a new school year and the turning of the leaves there's no doubt that autumn is the season of change. September is a time for new beginnings so turn over that fresh leaf, take a breath and start again. Finally, when looking for love, don't forget to fall in love with yourself first. Autumn is a great time to sit back and appreciate your own personal harvest and all the wonderful unique qualities you have.
If you need any guidance along the way, don't forget you can speak to Psychic Light. Our readers have extensive experience with relationship advice, and you can be sure that you will be talking to professional psychic readers specialising in matters of love and relationships so get in touch now.
Posted: 24/09/2014